R.A.D. Self Defense Program
Join a national effort to equip women to participate in their own protection.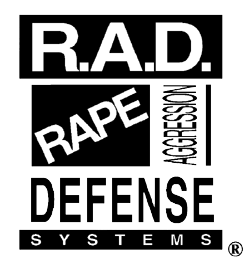 Lipscomb's Department of Security is proud to be a qualified R.A.D. instructor program—Rape. Aggression. Defense.—a basic system of realistic self-defense tactics and techniques taught to women only.
Please note, this program does not indicate in any way that we believe women are solely responsible for their safety or that by offering this class we believe that women are in any way at fault if they do not take it should an attack occur. We also know that this training does not guarantee one will not suffer an attack. It is just one more way we want to help give women an opportunity for an additional margin of control.
The goal of R.A.D. is to provide realistic self-defense options to women regardless of their level of physical conditioning. Students will be given the tools to make an educated decision about personal defense. Students at all levels of ability, age, experience, and strength will be provided with techniques and information that can be effectively used from the first day of class. R.A.D. is not a martial arts program nor does it require students to be athletes in training to succeed. It is the only self-defense program endorsed by the International Association of Campus Law Enforcement Administrators (IACLEA).
Fees
Fees include a workbook/reference manual and a lifetime opportunity to attend future sessions at no cost.
$10 fee for Lipscomb students
$15 fee for Lipscomb employees
$20 for non-Lipscomb employees—the public is encouraged to take advantage of this opportunity!
$5 discount for mothers and daughters attending together.
Age policy
Must be at least 13 years old. Students under 16 must have a female parent or guardian also attend. Ages 16-18 without a parent or guardian attending must have a parent or guardian sign a waiver.
Next scheduled classes:
For more information, contact Assistant Director David Cagle at 615.966.6637 or david.cagle@lipscomb.edu.